OraTec FX is a fixed measuring system dedicated to monitoring the creping process in tissue paper production. It provides a series of alarms and indications useful to identify particular working conditions of the machine that can lead to possible damage of the Yankee cylinder. Thanks to a new and advanced technology for signal acquisition, OraTec FX is able to measure and evaluate mechanical events, fiber accumulations, coating characteristics, friction between the Yankee cylinder and the creping blade, behavior of the cleaning blade, extractor efficiency, hood functionality, and much more.
OraTec FX is also able to collect process data for a complete evaluation of working conditions, so as to optimize creping performance and perform a more accurate predictive analysis.
OraTec FX can be appropriately configured according to the customer's needs and / or the specificities of the machine to be monitored.
The proposed standard configuration consists of:
3 vibration sensors on the creping beam with relative installation supports, cables and protective covers;
1 vibration sensor on the cleaning crossbar with relative installation support, cable and protective cover;
1 acquisition panel
1 appropriately configured workstation
New Software Track FX
Remote monitoring service by ORADOC staff (data analysis, troubleshooting and technical assistance)
Contact us to discover all the new features!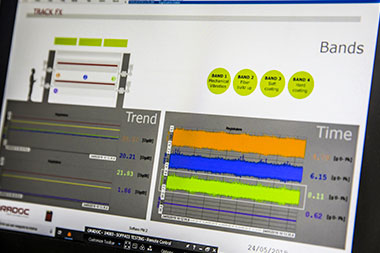 Request the data sheet and informations